I can't wait for friggin Black Friday/Cyber Monday so I can get myself a new camera. I figure I'll splurge and buy two. I'd like a Nikon or a Canon as my advanced camera, and a rinky dink cheapo one that I can toss into my pocket and take photos when I go out partying. Will see, however, what sort of money I have.
Currently, amidst the mourning of my lost camera--which was seriously attached to my hip for the better part of college--I'm also looking for a coat. For winter. Cuz there's apparently no such thing as fall in New York anymore. What the hell, man? It was flurrying this morning.
FLURRYING
. So, these are my options for my bummy coat. Functional, warm, and comfy. And some stuff I probably have no need for. But of course, that's a given.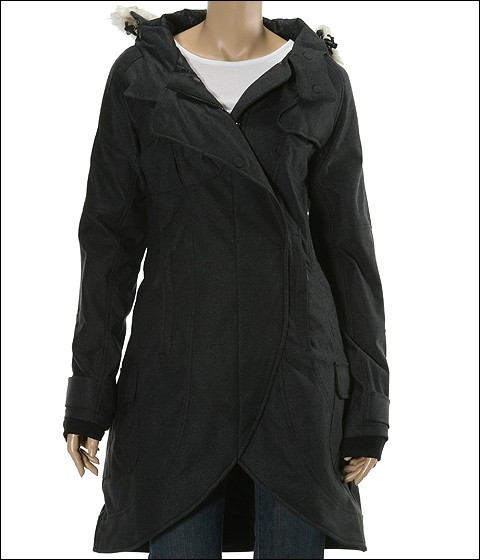 Spyder Roll Jacket, via Z
Paris Hooded Jacket by WESC, via Karmaloop
Tango Toggle Coat by Burton, via Karmaloop
Now these aren't necessarily very fashionable, but they'll keep me warm. And I get freezing cold at the drop of a dime, so I feel like it's necessary for me to have the warmest coat possible. I'm leaning toward the first one, which is from Spyder, because it's insulated a bit, and it's got a hood, it's long enough to keep my butt warm, and that stupid fur thing comes off. Plus it's got a crapload of pockets. These are my bummy coat options, stuff I can just throw on and not feel bad about getting stains on it. My nice coat options are a whole other post, and it's going to drop a pretty serious amount of cash on it. Figure I'll plan more for that particular investment as I haven't seen anything that's made me want to sell my grandmother just yet.
These, are my favorites. I really like the first one, the Boiled Dim Sum Coat from P.A.M. I love the shapelessness of it, and the fact that you can wear it a bunch of different ways.
Rojas Rayon Fleece Raindrop Jacket via Karmaloop
Rojas the Caroline Jacket, via Karmaloop
Kayla Wool Tailcoat by Ralph Lauren Rugby

By far, the tailcoat is my favorite, but it's not really functional in cold temperatures; it's only got one button and doesn't fasten all the way, but I'd rock the hell out of it and freeze my butt off if I could. It's gorgeous. Now...must find boots...

Images via Karmaloop, Zappos, RL Rugby